The following guest post is written by Amy Eldridge, the Executive Director of the Love Without Boundaries Foundation – a non-profit organization dedicated to improving the lives of orphaned and impoverished children in China.
Children with cleft lip and palate around the world often struggle with feeding issues, as they are unable to suck properly due to the opening in their lip and palate.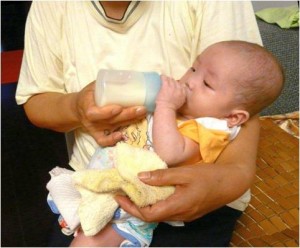 In the United States, hospitals provide counseling and feeding services to new parents of children with cleft.Parents also have access to specialized cleft bottles, which are soft and easy to squeeze, so a baby with this medical need can feed more comfortably. But for babies born with cleft lip or palate in China, the landscape is much different.
For unknown reasons, Asia has the highest incidence of babies born with cleft lip and palate in the world, with one in 500 born with the condition each year. Often, these children are abandoned, residing in orphan facilities with little access to resources that will ensure their healthy growth and survival.
As the executive director of the Love Without Boundaries Foundation, I have the opportunity to work with thousands of orphaned children in China with this condition. Over the last eight years, Love Without Boundaries has provided essential medical care to babies abandoned with a wide variety of birth defects, but those born with cleft are often the most at risk for becoming "failure to thrive." One such boy was nicknamed "Hercules" for his strong spirit and will to survive. Hercules had been born with cleft lip and palate, and when I met him at nine months of age, he weighed just eight pounds.
While some orphan facilities in China have access to specially designed bottles, the need is far greater than the supply. In the case of baby Hercules, his orphanage did not have access to these bottles, and like so many of these children, he was barely able to receive enough food and nutrients to support his survival.
With the support of the Mead Johnson Nutrition Foundation and Joint Council on International Children's Services, Love Without Boundaries was able to purchase enough bottles to feed children in more than 1,000 orphanages in China, along with educational materials and a training DVD on how to properly feed babies born with cleft. Since the distribution of the bottles, babies like Hercules can now feed properly and can more easily receive the proper nutrients for healthy development.
We are confident this important project will help save many more lives just like little Hercules, and provide infants and children abandoned with cleft lip and palate the best start in life.