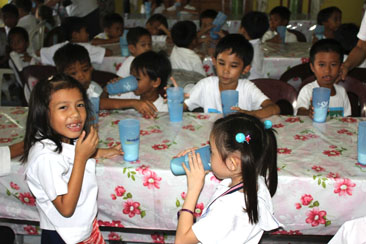 In the Philippines, a balanced meal and a glass of milk can mean the difference between children being forced to drop out of school or being able to pursue an education.
Pasiglahin ang Estudyanteng Pinoy (PEP) is a school-based Supplemental Feeding Program run in partnership by the National Competitive Council, the Department of Education, the Kabisig ng Kalahi Foundation and Mead Johnson Nutrition Philippines. The PEP program works with parents and teachers to prevent children from dropping out of school because of malnutrition. To date, the program has reached more than 15,000 malnourished children in approximately 500 public elementary schools.
Severely malnourished public school children are selected in groups of 30 from elementary schools nationwide, and then provided balanced meals and a cup of milk five days a week for six months. Mead Johnson Nutrition Philippines provides the daily milk ration for the duration of the program.
Since the program began 5 years ago, dropout rates among children participating in PEP have decreased to less than one percent, significantly lower than the national average of 33 percent. Just as important, nearly 98 percent of the children taking part in the program achieved normal nutritional levels after the feeding period.
The PEP program is just one example of the many philanthropic initiatives undertaken by Mead Johnson under the global umbrella of A Child's Best Start. Through PEP, we're addressing a malnutrition and stunting problem that affects some 30 percent of children in the Philippines and helping them to stay in school and get the best start in life.