When we package our infant formula products in reusable plastic tubs, a small percentage of the containers that do not meet our stringent packaging requirements are removed from the production line. We collect these empty tubs and donate them to Evansville ARC Industries, a not-for-profit organization in Evansville, Indiana, that provides employment and vocational training to more than 200 individuals with disabilities.
ARC Industries grinds the containers and sells the ground plastic to a local plastics company for use in new products. ARC uses the proceeds to support other educational and vocational training programs. Recycling the plastic also reduces the amount of waste sent to the local landfill.
"The Mead Johnson tub recycling project is beneficial all the way around," said Linda Martin, plant manager, ARC Industries. "It protects the environment, provides employment opportunities for people with disabilities, and gives ARC funding for other projects."
For more information about ARC industries, please visit Evansville ARC.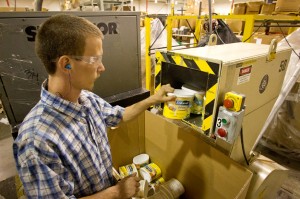 An ARC employee grinds unused plastic tubs for recycling