Several employees within the Mead Johnson Nutrition family have experienced firsthand the care and support neonatal nurses provide. As part of Neonatal Nurses Day, we highlight the story of employee Dominic Fernandes, his family and the role neonatal nurses played during a challenging time for his family.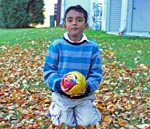 Dominic Fernandes and his wife, Sandy, know very well the critical importance of neonatal nurses in giving infants the best possible start in life. Eagerly anticipating the arrival of their first child in 2007, Sandy delivered their son, Joshua, premature at 32 weeks. The doctors and nurses immediately rushed Joshua – who weighed just 4 pounds, 2 ounces – to the neonatal intensive care unit (NICU), where he would stay indefinitely until he could start feeding on his own.
During that time, Sandy and Dominic visited Joshua every morning and evening and marveled at the care that the neonatal nurses provided around the clock. Because of his early arrival, the nurses fed Joshua Enfacare formula to help him gain weight and allow Sandy time to prepare to breastfeed. Throughout Joshua's time in the NICU, the medical team provided more than medical support by encouraging Dominic and Sandy, allaying their fears and sharing positive stories of other thriving babies who had started their lives in neonatal intensive care.
After three weeks, Joshua stabilized and gained enough weight so that Sandy and Dominic could take him home.
Today, seven years later, Joshua is a healthy, thriving first grader with a love of math and creating new structures out of LEGO blocks. Joshua dreams of becoming a space scientist and recently got to live his dream for a day when he visited the NASA Visitor Center in Florida with his dad.
To this day, Dominic and his wife recognize the critical role the nurses and caregivers played at the beginning of Joshua's life. They visited the NICU team several months later to thank everyone and share Joshua's progress. Dominic is still thankful for how much the team encouraged his family and nursed Joshua back to health from a fragile start in life.
"Thank you for giving us our son back," he said. "Thank you for making this a reality for us. Thanks most of all for helping us have faith that everything would be fine."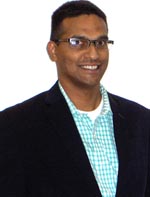 Dominic Fernandes is the associate director of human resources for corporate functions and compliance at Mead Johnson in Glenview, Illinois and has worked for the company 11 years.