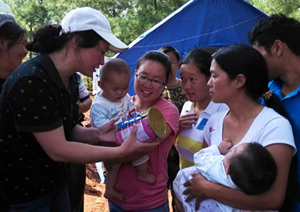 Soon after a deadly 6.5-magnitude earthquake struck China's Yunnan province in August, Mead Johnson China rushed much-needed aid to the thousands of survivors in the disaster region through the China Women's Development Foundation.
As rescuers made their way through devastated villages that dot the province, Mead Johnson donated more than 26,000 cans of formula products worth about 3 million yuan – or nearly US $490,000 – to displaced families.
Our Mead Johnson China employees are very familiar with the Yunnan Province. Through the company's annual "Trip of Love" program, Mead Johnson employees work with parents and caregivers in the province's Yulong County to provide medical assistance and education on feeding techniques in order to fight malnutrition among some of the region's most vulnerable children and infants.
"The residents of Yunnan Province are close to our hearts," said Sandra Yu, senior vice president and general manager, Greater China. "We will continue to monitor this situation and take steps necessary to help families during the difficult time of recovery."