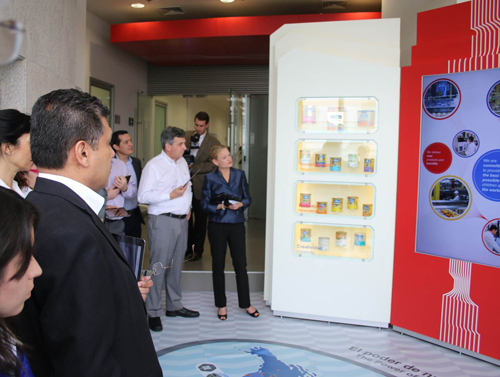 Mead Johnson Pediatric Nutrition Institute introduces guests to its Interactive Science Gallery in Mexico City, Mexico.
In one room, visitors peer through a window as scientists develop products that supply critical nutrients for the first stages of infancy.
Down the hall, people gather around touch screens that explore how a baby's senses develop and function.
In another area, guests enter a dark room with vibrating surround sound and wall-to-wall videos that simulate a baby's brain development from infancy to childhood.
These exhibits are part of the Interactive Science Galleries, the latest innovation from the Mead Johnson Pediatric Nutrition Institute (MJPNI).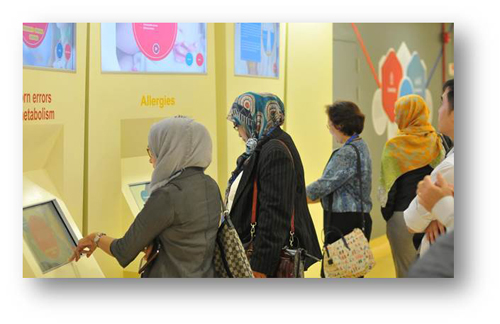 Visitors at Mead Johnson Pediatric Nutrition Institute's Interactive Science Center in Singapore.
With the opening of the company's Singapore campus in the fall of 2014, Mead Johnson now operates four of these global research networks devoted to advancing the science of pediatric nutrition (the others are located in Evansville, Indiana; Guangzhou, China; and Mexico City). These centers connect Mead Johnson's researchers to healthcare professionals and scientists across the globe, encouraging the open exchange of ideas.
The Institute also plays host to a variety of conferences and symposia, bringing together leading experts to discuss nutritional and developmental challenges and opportunities. Scientists connect with pediatric nutrition experts around the world, coming together at physical sites to accelerate innovations and get new products to market.
That rare combination of practical and pure research is what makes the MJPNI not just successful form a business perspective, but a critical component in advancing the overall body of knowledge and leading-edge thinking in pediatric nutrition.
"The Institute help us make important contributions to our field," said Institute Director Kelli Talley. "For example, The Global Exploration of Human Milk study our scientists are conducting is providing a greater understanding of the nutritional needs of newborns and how those needs change as an infant grows."
Whether visitors on any given day are fifth-graders from a local school, graduate students researching micronutrients or world-renowned experts in neonatology, the MJPNI Interactive Science Galleries have something for them.
"We love to share what we know and spark interesting discussions," Talley said. "After all, you never know where the next great idea or breakthrough may come from."
An extended version of our MJPNI story can be found in our 2014 Annual Report, located on Mead Johnson's Investors page. [Insert hyperlink]