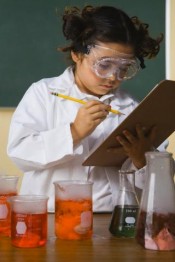 Twenty girls from Tekoppel Elementary School in Evansville were chosen by the school's administration to participate in an outreach mentoring program developed by the Network of Women (NOW) employee resource group here at Mead Johnson Nutrition. The six-month immersion program was launched in January to help fifth grade girls foster a deeper appreciation of math, engineering and science.
Each month throughout the program, a group of Mead Johnson's female team members mentored the group of girls during their lunch hour. During these mentoring sessions, the girls built cars made from mousetraps; constructed batteries powered by fruit; explored the digestive process; and learned about the various career opportunities available in math and science. Between sessions, they reflected on their experiences through regular journal writing.
"Girls are not entering the science and technology fields at the rate that boys are," said Graciela Monteagudo, Senior Vice President and General Manager, North America and Global Marketing, Mead Johnson Nutrition.
"This program is a natural fit for Mead Johnson. We wanted to create a supportive all-girls environment led by our female team members to help our mentees recognize their unlimited potential and discover career opportunities they never may have considered. We need top scientists to maintain our position as an innovator in our field. We hope this program will encourage young people to pursue careers in the sciences and maybe, someday, put their talents to work at our company."