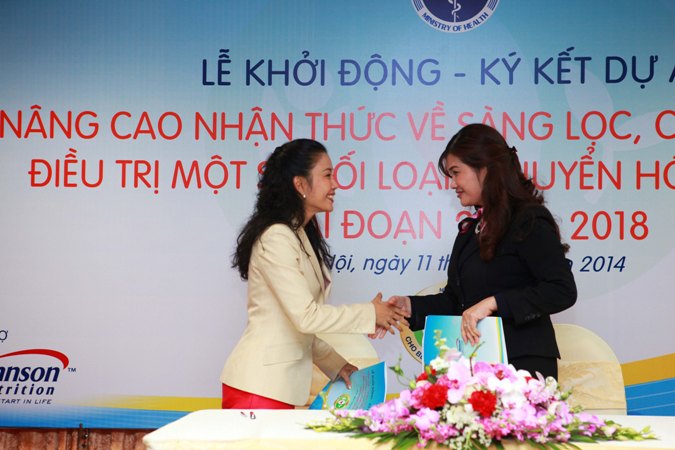 Mead Johnson Vietnam, the Department of Maternal and Child Health (Ministry of Health), and the National Hospital of Pediatrics in Hanoi recently announced a nationwide program designed to screen newborns for congenital metabolic disorders (CMDs).
Also known as inborn errors of metabolism, CMDs are rare but potentially serious genetic conditions in which the body cannot metabolize one or more amino acids. Screening for and diagnosing CMDs usually takes place within the first few days of an infant's life. If CMD is left undetected and untreated, it can lead to a host of life-altering conditions including seizures, organ damage, physical or mental disability or even the shortening of life. Examples of CMDs include maple syrup urine disease and Phenylketonuria (PKU).
This latest cooperative effort – "Raising Awareness of Screening, Diagnosing and Treating of Congenital Metabolic Disorders" – is a four-year renewal of an initiative originally piloted back in 1999 by the National Hospital of Pediatrics and supported through the years by MJN Vietnam.
Over the next four years, MJN Vietnam will:
• Provide specialized metabolic products to infants with CMDs, including donations to families in need;
• Train prenatal and neonatal staff to screen for and diagnose CMDs;
• Organize and facilitate expert participation in regional and global metabolism conferences; and
• Support general administrative costs for the program.
Gift Samabhandhu, general manager of MJN Vietnam, said that MJN's continued partnership with the Ministry of Health and the National Hospital of Pediatrics – the only health care organization in the country to screen, diagnose and treat high-risk newborns through nutritional intervention – is important to reducing the effects of CMDs through early detection and treatment in Vietnam.
She stated, "As a global leader in pediatric nutrition, Mead Johnson is proud to renew this partnership to use our expert scientific knowledge to help families manage their children's serious metabolic conditions through our specialized nutrition products."
Dr. Luu Thi Hong, director of the Maternal and Child Health Department, said, "This project demonstrates the strong commitment of the Vietnam Government and Health Sector to activities aimed at improving the life quality of children in Vietnam. With the collaborative support of Mead Johnson Nutrition Vietnam, we believe that the project will be fruitful and help diagnose, treat and manage many CMD-affected patients nationwide."
Dr. Le Thanh Hai, general director of the National Hospital of Pediatrics added: "I wish for the newborn screening project to be replicated nationwide to enable early diagnosis and treatment for CMD-affected infants. My sincerest thanks go to Mead Johnson Nutrition Vietnam for sharing and cooperating with us."
Congenital anomalies including CMDs account for 20 percent of all causes of mortality in children under age 5 in Vietnam, according to the World Health Organization in 2008, the last year for which data are available.
At the ceremony, Ha Phuong, mother of Minh Anh, a CMD-affected child expressed her appreciation to the doctors who have taken care of her daughter and Mead Johnson Nutrition's scientists who developed such a great products that have saved her daughter's life. In a video shown at the ceremony, Ha Phuong's and other parents of CMD-affected children shared their pain and grief when being advised by the doctors of their children's illness and their happiness now seeing their children's healthy growth.
Support for this program is provided by Mead Johnson Nutrition Company under its global philanthropic program, A Child's Best Start.