Mead Johnson Vietnam recently received a prestigious Consumer Trust Business certificate in recognition of its excellence in product quality, business standards and customer service.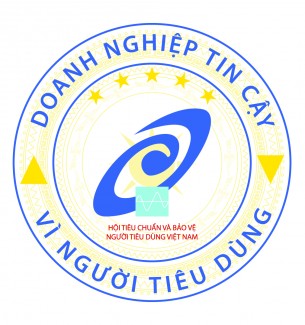 The certificate, presented at an annual consumer conference in Hanoi, was bestowed by the Vietnam Standard and Consumers Association (VINASTAS), an organization founded to recognize and promote business quality and consumer protection.
Mead Johnson is the fourth company to receive this recognition in Vietnam, and the first foreign-owned corporation to earn the award.
In making its announcement, VINASTAS pointed to four areas in which Mead Johnson excelled:
Product quality, pricing and consumer data security;
Factual advertising, ease of access to product information, clear labels and consumers education;
Customer Service, including ordering, delivery, and quality control;
and business conduct and ethics, including training and development, and compliance with regulations.
"This award reflects the high trust that the company has earned from consumers and government officials in Vietnam," said Enda Ryan, "With this certificate, consumers can be confident that they are selecting a high quality brand to nourish their child.
"I would like to thank Nguyen Hoang Yen for her leadership in working with Vinastas to on this important and well deserved recognition, a great example of Innovate & Improve," he said.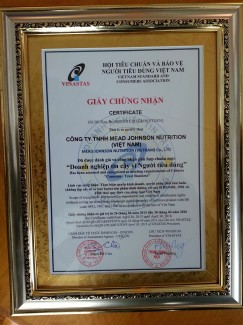 Mead Johnson Nutrition was awarded the Consumer Trust Business Certificate for excellent customer service, product quality and business standards.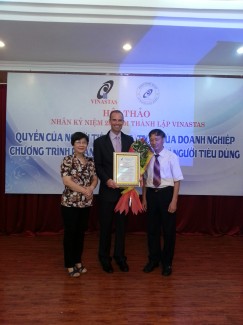 Enda Ryan, General Manager, Vietnam, accepts the Consumer Trust Business Certificate in Hanoi.