The following post is a Q&A session with Mary Engelland, a Registered Dietitian (RD) in Mead Johnson's Medical Services Department. In recognition of the important work of RDs, we're providing an inside look at the day in the life of an RD, as they are essential to our success and mission to nourish the world's children for the best start in life.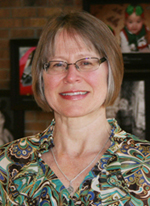 Mary Engelland, Registered Dietician, Mead Johnson
How long have you been at Mead Johnson and what is your title?
I've been working at Mead Johnson since October 1990, so it's going on 22 years now. I am a Principal Product Information Specialist in the Medical Services Department.
What is the role of an RD at Mead Johnson? Can you walk through a typical day?

My role consists of a variety of different tasks, including: responding to questions from our medical sales force and health care professionals, monitoring consumer reports about product questions and providing nutritional consultation for marketing and product labels. In the role of an RD, my position offers a lot of variety which allows me to interact with employees from all different areas of Mead Johnson, as well as with customers.
Describe your background and how your training/certification helps to inform research and development for the company?

Before I came to Mead Johnson, I worked in hospitals, outpatient clinics and health centers. This experience helped me understand the interface of consumers, health care professionals and products, which enable me to better align everyone's needs.
What other training/certification do you have beyond that which is required to be an RD?

In addition to my RD certification, I have a Master's of Education in Nutrition and I'm a Board Certified Specialist in Pediatric Nutrition. I also obtained a Medical Writer certification early in my career, which is beneficial to my writing responsibilities at Mead Johnson.
In your time with Mead Johnson, what is the program you are most proud of leading or having been a part of?

There are a lot of different projects that I've been proud to work on. One that comes to mind is a project in 2005 to revamp the preparation and use information on our product labels. It's important to me that our product and marketing materials provide explicit and proper instructions on preparing and handling formula for parents to ensure the health and safety of their child. On a day-to-day basis, I get satisfaction when a customer or Mead Johnson sales representative tells me they appreciate how I was able to help them.
What is the most interesting aspect of being an RD?

I love the variety that a career in dietetics offers. Some people think that it's all about the "hard" sciences, but there's really a wide range of topics we cover including food preparation, sociology and psychology. It's also a great conversation starter – everybody has to eat, and I love talking about food!
Mead Johnson's mission is to nourish the world's children for the best start in life. How do you identify with this mission as an RD? How are you fulfilling this mission in your role?

Although I have always been intrigued with good nutrition and disease prevention, when I first started my career I never thought I would be working in pediatric nutrition. But as I've learned more about the impact of early childhood nutrition on our health later in life, I know I am in the right place. I love being able to play a role in helping parents nourish their children and set the stage for healthy growth and development.