The following post is a Q&A session with Kelly R. Walsh, Ph.D., R.D. (Registered Dietitian), a Principal Nutrition Scientist at Mead Johnson Nutrition, North America. He is also a member of the Global Nutrition Working Group of leading authorities on nutrition and medical care for vulnerable children and orphans convened to help guide program elements of the Mead Johnson Foundation's signature philanthropy program, A Child's Best Start. Additional information on Dr. Walsh's career and other members of the Global Nutrition Working Group can be viewed under the About Us section on A Child's Best Start online resource, OrphanNutrition.org.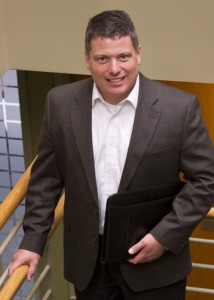 What is your role at Mead Johnson and how long have you been with the company?
I am a Principal Nutrition Scientist at Mead Johnson Nutrition and have been with the company for six years. I currently lead the Nutrition Science group for North America Research and Development. My area of specialty is premature infant nutrition and metabolism, and one of my roles is conducting research and monitoring the scientific landscape in this major area of focus for Mead Johnson. My team and I are also responsible for providing scientific guidance on the development of new products, and providing internal and external nutritional education and training, among other activities.
**Aside from your work at Mead Johnson, what groups or associations are you a member of? Can you provide a brief overview of how you contribute to those groups? **
I'm involved with The American Society of Nutrition where I'm an active member in the Dietary Bioactives Research Interest section. As a member of this group, I have co-chaired sessions at annual Experimental Biology and Medicine meetings, mentored graduate students and have even judged some research competitions. I'm also an active member of the Academy of Nutrition and Dietetics (formerly American Dietetic Association), where I'm responsible for peer reviewing abstracts for their annual conference. I serve on the editorial boards for the Infant Child and Adolescent Nutrition Journal and the International Journal of Child Health and Nutrition. I am also fortunate to be an adjunct professor of Biochemistry and Molecular Biology at Indiana University School of Medicine where I give multiple lectures on nutrition and metabolism to medical students.
What is your role as a member of A Child's Best Start (ACBS) Global Nutrition Working Group (GNWG)?
The GNWG is essentially an editorial board of experts for A Child's Best Start core program materials, including the recently launched OrphanNutrition.org website. My main role, along with others in the Working Group, is to guide the content development for the online resource database and support the development of core program materials. Mead Johnson Nutrition volunteers my time and services for this role.
The GNWG recently convened at the Joint Council on International Children's Services' 36th Annual Child Welfare Symposium in New York, and it was a humbling experience to be working with a group of such esteemed experts. From expertise in general pediatrics, epidemiology and neonatology, to health issues specific to orphans, there is a really broad range of knowledge to draw from. It allows us to give this program direction in a well rounded manner.
As a parent, what does the ACBS program mean to you?
Being a parent only furthers my desire to help this cause – I don't want to see any child lack for proper nutrition or development. This program is the very essence of Mead Johnson's mission: nourishing the world's children for the best start in life. It is important to me as a father and as a professional in this line of work, to see our expertise and knowledge in the subject of pediatric nutrition reach communities around the world that need it the most.
Looking in the future, what direction do you see the ACBS program going as it continues to evolve and expand? What do you think will be the key to its success?
I think the key to any type of philanthropic program is the ability to develop a sustainable framework for intervention versus an activity that occurs once or twice in a given setting. But that's also the challenge. With proper education and training, we are working to prepare caregivers to not only sustain the efforts of the program, but to propagate their knowledge and experience down the line. Making the education component sustainable will help grow the ACBS network and accelerate global dissemination of knowledge around proper nutrition for infants and children.