In recognition of our 50 years in the Philippines, Mead Johnson recently kicked off its anniversary program titled "50 Best Starts" – an initiative focused on providing community support and employee volunteer projects under our signature philanthropic program, A Child's Best Start.
Among the "Best Starts" are our efforts to provide support to orphan and welfare organizations through a variety of projects, donations and volunteer activities – all aimed at improving nutritional facilities and access to resources. Our first project involves our work with Christian Growth Ministries (CGM), a child care and welfare institution.
The project kicked-off in February, when Mead Johnson employees visited the CGM Home of Joy Orphanage in Cavite, Philippines, to plant a vegetable garden. A month later, our volunteers visited the Home of Joy to harvest the 80 new garden plots, which increase availability of fresh and healthy produce for children living at the center.
Visit the Mead Johnson Philippines site for more information on the work with CGM and other activities related to our "50 Best Starts."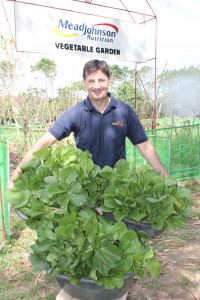 Paul Richards, General Manager of Mead Johnson Philippines, is pleased with the initial harvest as he carries the produce harvested from the vegetable garden at the Christian Growth Ministries (CGM) Home of Joy Orphanage.