As you can see from the picture above, twins Aiden and Ella Binkley are healthy, vibrant toddlers. What you can't see are the many battles they fought during the first six months of their lives in the Neonatal Intensive Care Unit (NICU) – including brain bleeds, a collapsed lung, life-threatening pneumonia, staph infections and countless blood transfusions. Their current vitality is thanks in large part to the work of Gerard M. Cleary DO, neonatologist at Abington Memorial Hospital (AMH) in Abington, Pennsylvania, and recipient of the first NICU Heroes Award.
The award was co-presented by Mead Johnson Nutrition and the Hand to Hold organization that provides support to families of premature infants (preemies). It recognizes NICU professionals for their compassion and dedication to improving outcomes for medically fragile babies and their families. An independent panel of judges of NICU healthcare professionals and parent-leaders of preemie-support organizations selected Dr. Cleary from more than 100 nominations received from NICU parents throughout the United States.
At the awards ceremony held at Abington Memorial Hospital, Dr. Cleary said, "I'm honored to receive the NICU Heroes Award from Mead Johnson and Hand to Hold. This honor is for all of the NICU professionals at Abington Memorial Hospital who work so closely together, providing the highest level of care to fragile infants and their families. We receive great pleasure when we see children like Aiden and Ella, who are the real heroes, grow and thrive."
As part of his recognition, Mead Johnson donated $2,500 in Dr. Cleary's name to Simon's Fund, a nonprofit organization dedicated to preventing sudden cardiac arrest in children and young athletes. AMH also received a one-year subscription to the NICU Resource Library from Hand to Hold.
Dr. Cleary serves as Medical Director and Patient Safety Officer of AMH's Level III NICU, which includes the 34-bed Andrew Tesauro Special Care Nursery and Continuing Care Unit for high-risk and premature infants. He is a Fellow of the American Academy of Pediatrics and of the American College of Osteopathic Pediatricians.
Mead Johnson and Hand to Hold will begin accepting online nominations for the second annual NICU Heroes Award at [http://handtohold.org/news/nicu-heroes/](http://handtohold.org/news/nicu-heroes/ in spring 2014).
Based in Austin, Texas, Hand to Hold is a 501(c)3 not-for-profit organization that provides support, education, and navigation resources to parents of premature infants, babies born with special healthcare needs, and those who have experienced a loss.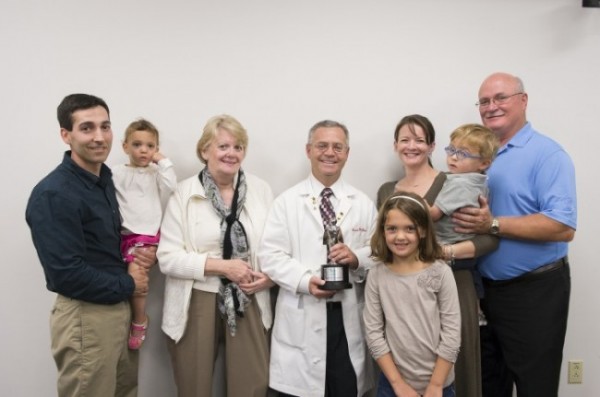 Dr. Cleary (center) with twins Aiden and Ella Binkley and their family.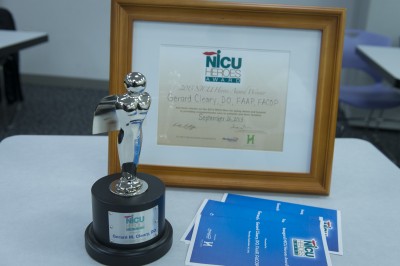 Dr. Cleary's NICU Heroes Award and certificate.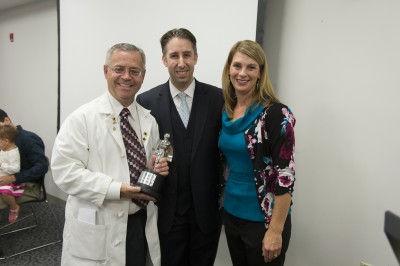 Dr. Cleary with Chas Carol, Enfamil® EnfaCare brand
Manager, and Kelli Kelley, founder and executive director of Hand to Hold.