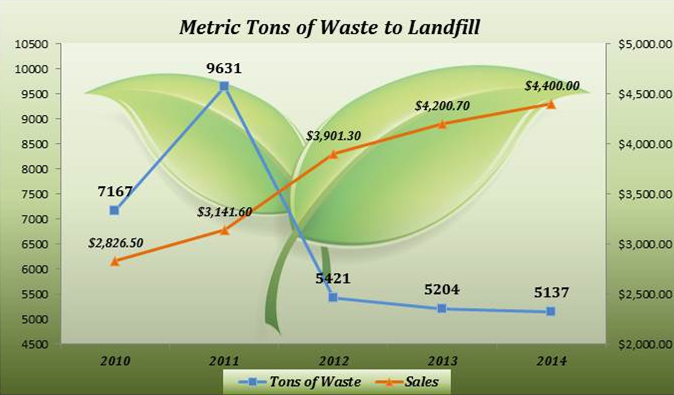 Mead Johnson has taken great strides to reduce waste going to landfill.
For Mead Johnson Nutrition, one significant aspect of GreenVision 2020 – our commitment to reducing our impact on the environment – is achieving a 60 percent reduction of the waste we generate by the year 2020. We are nearly halfway to our goal, thanks in part to our manufacturing facilities in China and the Netherlands achieving zero waste to landfill status and our newest facility in Singapore being a zero waste location since its first day of operation last summer.
Eliminating waste going to landfill at a major manufacturing and research facility is a monumental achievement. It takes collaboration across multiple teams – including facility design, process engineering, Supply Chain and Environmental Health & Safety – to develop and implement processes designed to reduce, reuse and recycle waste for alternate uses.
At our Nijmegen facility in the Netherlands, for example, Mead Johnson recycles nearly 90 percent of the waste it generates, including cardboard, tin, metal and plastics.
"Zero waste to landfill is a notable achievement that reflects Mead Johnson's commitment to protecting the environment. We undergo a rigorous process for eliminating waste – that includes an extensive audit process – to ensure we are not only meeting, but exceeding our environmental goals," said Michael Robson, Mead Johnson's director of Global Environmental, Health and Safety.
As part of our commitment to reduce waste, our nearly 8,000 employees take steps – big and small – each day to reduce, reuse and recycle in our offices and the communities in which they live worldwide. They actively participate in programs that provide more effective energy production, use biodegradable products in our offices and cafeterias, and plant vegetable gardens and trees in conjunction with our CSR efforts.
Mead Johnson launched its GreenVision 2020 environmental initiative to focus on reductions in energy consumption, greenhouse gas emissions, water usage and waste sent to landfills. For more information about GreenVision 2020 and how we are progress toward our goals, please click here.