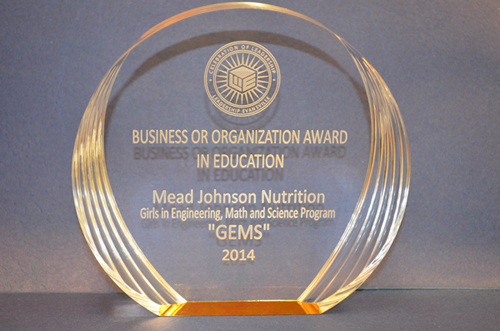 A leading civic organization in Evansville, Indiana recently lauded one of Mead Johnson's employee activity groups for its groundbreaking initiative to introduce young women to careers in science.
Leadership Evansville recently bestowed its 2014 Celebration of Leadership award in the Business/Organizations category to Mead Johnson's Network of Women (NOW). The award recognized NOW's Girls in Engineering, Math and Science (GEMS) immersion program at Tekkoppel Elementary School.
Launched in 2013, GEMS is designed to foster a deeper appreciation of and interest in science, math and engineering among female students. Mead Johnson's female scientists mentored nearly two dozen fifth-grade girls over the course of the initial six-month program. During monthly hour-long sessions, NOW members discussed career opportunities in the sciences and conducted a number of fun experiments, including building toy cars from mousetraps and constructing batteries powered by fruit.
The program proved to be so popular that Tekkoppel Elementary expanded it in 2014 to cover the entire school year.
Elaine Daniels, Mead Johnson's vice president of Information Management is the executive sponsor of NOW. She explained that Leadership Evansville's recognition of GEMS showcases Mead Johnson's long-term commitment to growing female science workforce by introducing girls to the science and engineering in their formative years.
"With the National Science Board reporting that only one in four women make up the science and engineering workforce in the U.S., it is important that young girls see – and get to know – female role models succeeding in the sciences," Daniels said. "This helps young girls understand that there is a place for them in these professions and that this can be a rewarding and fun career path."