*Mead Johnson Nutrition supports Maryville Crisis Nursery in Chicago through product donations and volunteer efforts. We've invited Amy Kendal-Lynch, M.S., the Nursery's director, to explain and highlight benefits provided by the facility. *
Maybe you're a parent of two children under the age of four and about to start a new job. You have no spouse, family or friends to watch your children and little time to arrange child care. How can you support your kids with no one to support you?
Or imagine you're a sleep-deprived new mom and on top of that, your baby has colic and seems to cry every waking moment. Just a few hours of sleep and relief from the noise would bring renewed energy and patience in caring for your child. But no one is available to help - and the mom is feeling alone and overwhelmed.
These real-life examples illustrate why we're here. Maryville Crisis Nursery exists to provide immediate, short-term child care for families so they can resolve major disruptions in their daily lives. We provide a safe and nurturing environment designed to protect children from experiences or environments that could harm them.
Established in 2006, Maryville Crisis Nursery is the only crisis nursery in the Chicagoland area and one of only six in the state of Illinois. Parents have traveled up to four hours or more by car, bus or train, seeking a safe haven for their children. We currently have the capacity to care for 12 children at once. Families can call us – no questions asked – to request emergency care for their child or children. Children up to age six can stay 72 hours, and families can use the nursery a maximum of 30 days a year. With every family we meet, we assess all needs related to the child, provide referrals in their community for extended services and offer counseling and other support, if needed.
Partners like Mead Johnson Nutrition make this possible through their time and generous support of resources critical to infants and children. All assistance we receive, through volunteer efforts or donations, helps us maintain a safe, nurturing environment for infants and children when they need it most. It also keeps them safe and also prevents abuse. Visit the Maryville Crisis Nursery website to learn more.
*Amy Kendal-Lynch, M.S., is the program director of Maryville Crisis Nursery and has worked with Maryville Academy for 18 years. *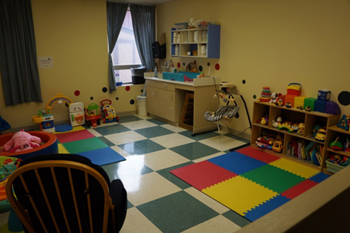 In brightly colored, well-equipped recreation rooms, children in residence get a chance to play and have fun indoors - especially important during Chicago's long, cold winter months.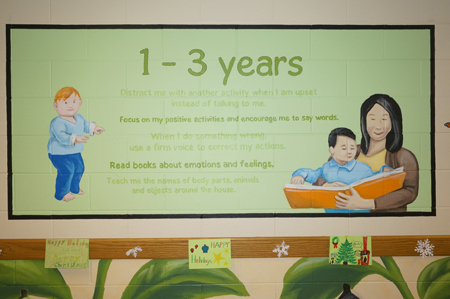 Over the course of several days, MJN Glenview employee volunteers teamed with a local artist to create a "teaching mural" highlighting key development milestones for children 0-6 years of age.