This Earth Day, we're reminded of one of our former leaders and grandson of our founder, Daniel Mead Johnson, who challenged the company to "look to the needs and demands of tomorrow for today's standards of performance, and not to the tradition of yesterday."
It is in that same spirit that we strive to go beyond what is required and push for incremental improvements in our sustainability efforts year after year. We established a long-term roadmap to reduce the company's environmental impact, branding it GreenVision 2020; and five years into the initiative, we're seeing results that exceed expectations.
"Our company focused on the four areas where we can make the greatest environmental impact – water use, energy use, waste generation, and greenhouse gas emissions – and challenged our global leaders to find ways to make a difference," said Michael Robson, Director of Global Environmental Health and Safety at Mead Johnson. "And our people have risen to the challenge by ramping up water conservation projects, increasing recycling, making changes to packaging designs, and establishing bio methane programs."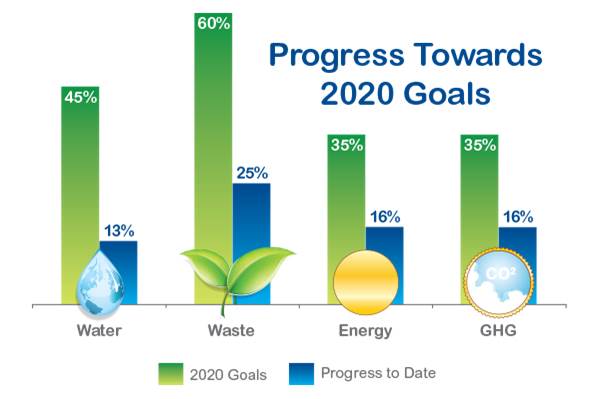 Through a combination of efforts, Mead Johnson surpassed every one of the annual GreenVision 2020 targets in 2013, and remain on pace to meet or exceed the long-term goals set for the end of this decade.
Pointing to just one accomplishment, Robson noted that Mead Johnson's facility in the Netherlands became the second plant in the company's manufacturing network to achieve zero waste to landfill in 2013 (the company's facility in Guangzhou, China, was the first to reach that goal).
"Achieving zero waste even on a household level is challenging enough. This is a significant accomplishment for a major manufacturing facility, and it demonstrates what we can do when we put our minds to the challenge."
To learn more about our GreenVision 2020 commitments, please visit the Protecting the Environment page on our website and our 2013 Annual Report.