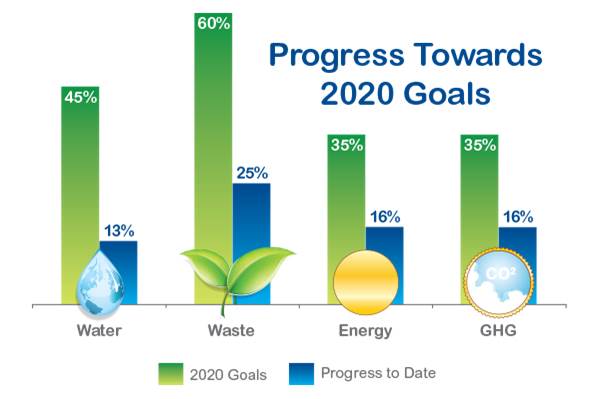 When Mead Johnson launched its GreenVision 2020 environmental initiative five years ago, the focus has been on reductions – in energy consumption, greenhouse gas emissions, water usage, and waste sent to landfills. As we continue to reduce our environmental footprint, one aspect we're committed to increasing is our communication around progress.
Although we have been sharing a number of our sustainability initiatives in our Annual Report and via the corporate website and our LinkedIn page, that is no longer enough. Stakeholders – including, retailers, investors, suppliers, consumers, and current and potential employees – increasingly expect companies to commit to environmental excellence and to publicly and regularly share progress toward their goals. Over the past year, Mead Johnson has engaged with independent third parties to do just that. These organizations measure, monitor and independently validate the progress the company is making in such areas as environmental performance, as well as corporate governance and social programs.
"Transparency around our environmental and sustainability programs has skyrocketed in importance," said Michael Robson, director of Global Environment, Health and Safety. "Publicly sharing our goals and our results – such as offsetting the use of fossil fuels by establishing bio-methane programs, implementing water reduction initiatives and sourcing traceable cocoa and palm oil – increases confidence in Mead Johnson as a responsible company. It also reinforces our commitment to going beyond basic requirements by pushing for incremental improvements in our sustainability efforts year after year."
The company's openness in these areas has not gone unnoticed. From recognition for achieving zero waste to landfills in the Netherlands and China to receiving the Mexico Socially Responsible Corporate Distinction Award for three consecutive years, Mead Johnson has earned seals of approval for our corporate citizenship initiatives from around the world.
Investors, too, are expressing more and more interest in sustainable and responsible corporate practices, which is why we submit data to a recognized global research firms that create corporate citizen scorecards for use by portfolio managers and investment advisers. Particularly striking, is our improvement in the recently published Newsweek's 2014 Green Rankings. We rocketed up the list of top 500 companies globally in terms of overall environmental performance – not only due to our improved programs and strong results, but also because of our enhanced transparency and willingness to share more detailed environmental statistics.
"The demands to share our environmental progress will not go away any time soon," Robson said. "Companies are expected to both establish sustainability goals, and then provide reports on their progress. We are happy to do that, and we will continue to tell all of our key audiences – including our Mead Johnson colleagues – about our activities in these critical areas."