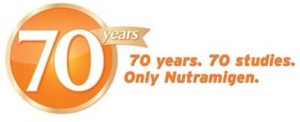 In 1942, Mead Johnson introduced Nutramigen infant formula, a product representing a significant breakthrough in pediatric nutrition. Now 70 years later, Nutramigen is celebrating its long history of scientific research and excellence in providing infants with support for their unique nutritional needs.
As the first formula for the dietary management of cow's milk allergy (CMA), Nutramigen has been at the forefront of innovation and scientific advancement since its introduction. In fact, we marked an incredible milestone in 2011 by recognizing that its effectiveness has been clinically proven in over 70 clinical studies. This makes Nutramigen the most published and scientifically supported formula of its kind.
To recognize this important achievement, and understand the impact Nutramigen has made on infants affected by CMA, we're sharing special video stories from parents and comments from healthcare providers on their success with Nutramigen.
For more than 100 years, Mead Johnson has been at the forefront of providing groundbreaking, nutritious products that parents can feed their children with confidence. With such innovative developments like Nutramigen, we remain dedicated to our mission to nourish the world's children for the best start in life, now and for the next 100 years.