Each year, Mead Johnson and nonprofit Hand to Hold partner to give the NICU Heroes Award, celebrating Neonatal Intensive Care Unit professionals. Parents of infants and children who have spent time in the NICU nominate health care professionals who impacted their lives. We are sharing these inspirational stories on November 17, in recognition of World Prematurity Day.
The Neonatal Intensive Care Unit – it's a place where preterm and babies with serious medical conditions get the best care, but it's also where parents experience some of the greatest stress, pressure and worry of their lives. Oftentimes, a hero in a white coat or scrubs steps forward and helps families through a critical time, lifting their spirits and helping save their child.
Two of these heroes – a neonatologist from Oregon and a neonatal nurse from California – are being honored for their outstanding skills and support in their field, after being nominated by families touched by their care.
Neonatologist Aryan Azimi-Zonooz, MD, from St. Charles Health System in Bend, Oregon, and neonatal nurse Joann Thorpe, RNC, from Dignity Health's Mercy Medical Center Redding in Redding, California, are the 2015 recipients of the NICU Heroes Award. The award, presented by partners Mead Johnson and nonprofit Hand to Hold, recognizes medical professionals who go beyond the call of duty to help babies in need.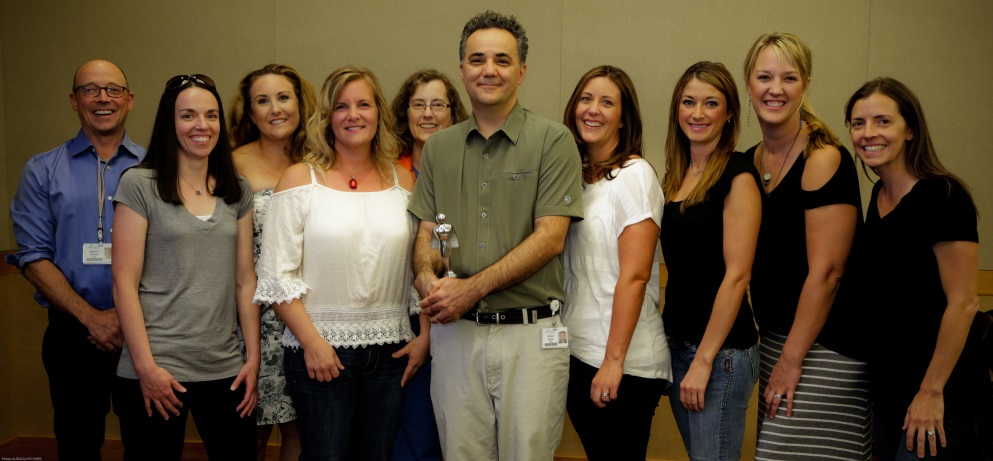 Dr. Azimi-Zonooz and his staff pose with the NICU Heroes Award.
Azimi-Zonooz was selected for his support of Jill Leonard and her son, Aviv, born in November 2014 at 37½ weeks. After his birth, Aviv struggled to breathe and was diagnosed with pneumonia and two collapsed lungs. Azimi-Zonooz led the care for Aviv, explaining each different chest X-ray to Jill and her husband and always focusing on the positive.
"We felt like we were his only patient," Leonard said. "He saved Aviv's life, and humbly recognizes that he did not do this alone, but the NICU team and Aviv did this together."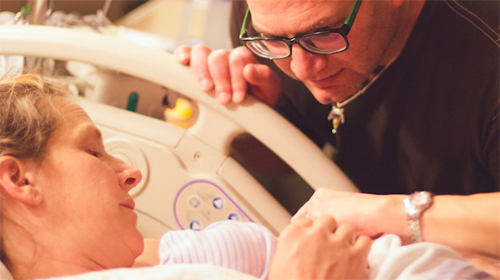 Baby Aviv is pictured with his parents at the hospital. He received life-saving care from Dr. Azimi-Zonooz and his staff.
Each year, the Leonards will put a blue candle on their son's birthday cake, representing the color of the scrubs Azimi-Zonooz and his team wore each day as they worked to help Aviv reach his first birthday.
"Each family we care for in the NICU brings a complex dynamic of medical challenges and emotions," Azimi-Zonooz said. "I work as part of a team of many unsung heroes in the NICU that come together to care for the infants and support the parents through the stresses of the NICU."
At a NICU in California, Chelsea Arledge went into early labor at just 23 weeks and 2 days in July 2008. From the moment she delivered, Arledge had the support of Nurse Thorpe. With her husband away on military duty in Iraq, Arledge leaned on Thorpe, who promised the medical staff would do everything they could to save her 1-pound, 3½-ounce son, Travis. Dealing with a host of medical problems, Travis was 44 days old before his mother was able to hold him.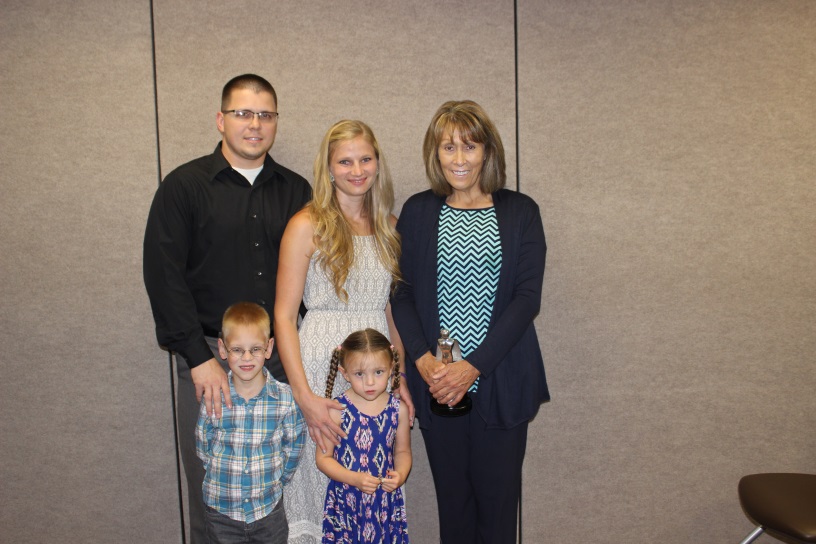 The Arledge family posts with NICU Heroes Award winner and nurse, Joann Thorpe.
Advice from Thorpe, including the reality that the family's unexpected NICU journey would be one of the hardest experiences of their lives, helped Arledge and her husband stay strong and united as a team.
"Nursing is not a job to Joann; it is a passion and a calling," Arledge said. "I truly believe that she was born to do this work. To me, and so many other grateful parents, she is an angel among us."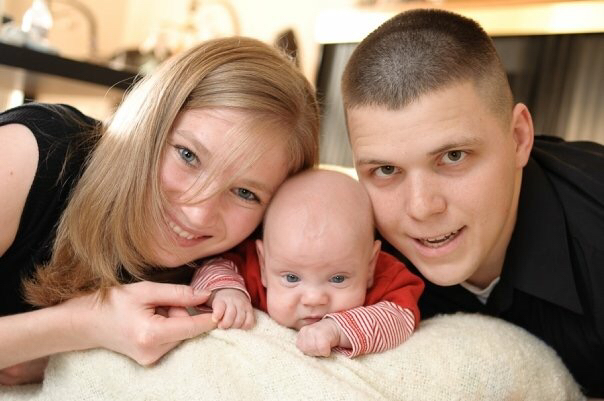 Baby Travis – cared for by Nurse Thorpe – is pictured with his parents.
Arledge's connection with Thorpe inspired her to pursue a career in nursing, with Thorpe as her role model. She follows in the footsteps of Thorpe, who became a NICU nurse just a few years after her own daughter was born and admitted to the NICU.
"Spending time in the NICU can be the biggest crisis of a family's life," Thorpe said. "I was so terrified when my own daughter was in the NICU, which is why I approach neonatal nursing as taking care of the entire family."
Thorpe is donating her $2,500 prize toward two hospital-grade rocker beds to soothe drug-exposed babies at Mercy Foundation North. Azimi-Zonooz's gift will help Ronald McDonald House Charities of Central Oregon.
Visit www.handtohold.org/hero for more information on the NICU Heroes Award.