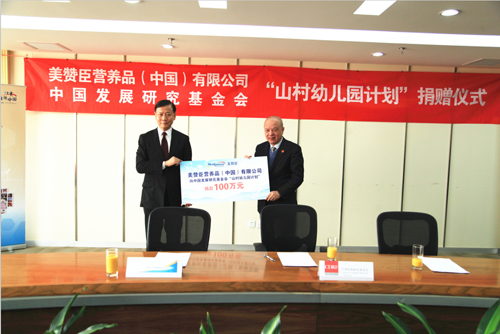 MJN Greater China's director of External Affairs Z.Y. Zhang (left) at the signing ceremony with Lu Mai, secretary general of the China Development Research Foundation.
In China, 1 in 3 kindergarten-aged children live in poverty-stricken areas with no access to preschool education. This is primarily driven by a large number of couples leaving their children in rural areas to pursue employment opportunities in larger cities. To help eliminate this education gap, Mead Johnson Nutrition signed an agreement with the China Development Research Foundation (CDRF) to support the Village Early Education (VEEC) Program. VEEC provides early childhood education to children ages 3-5 years in China's remote mountain communities, such as Zhijin County in China's Guizhou Province, which will be the first to benefit from the Mead Johnson donation.
According to recent research from China's Ministry of Education, a preschool education can have a significant impact on lifelong learning and skills development. In support of Mead Johnson's mission of providing the world's children with the best start in life, the company is donating RMB $1,000,000 (US $162,600) to the VEEC Program. The funds will supplement living subsidies and career training for volunteer teachers, build supporting facilities, as well as provide books and nutritious snacks for at least 500 children.
"Mead Johnson not only will provide financial support to the VEEC Program, but its rich experience in public charity also will be a good reference to the program, so as to further promote VEEC in poverty-stricken areas and enable more children to benefit from it," said Lu Mai, secretary general of the China Development Research Foundation.
The CDRF launched the VEEC Program in 2012 to convert surplus school resources into early childhood education centers in China's mountain villages. In its first three years, VEEC's success has positioned it to become a model for education in poverty-stricken communities throughout China.
"Joining the VEEC program to help improvised children receive the proper preschool education is consistent with Mead Johnson's longstanding commitment, and is also an appropriate way to give back to the community," said Sandra Yu, president of Mead Johnson Greater China. "We are hopeful that our contribution will improve both access to and the quality of preschool education in low-income mountain villages and will give these children a strong start to a lifetime of learning."