As an active participant since the meeting's inception in 1991, Mead Johnson had a number of scientists in attendance at the 10th Congress of the International Society for the Study of Fatty Acids and Lipids (ISSFAL), held in Vancouver, Canada in May.
With over 600 members from more than 40 countries, the biennial meeting convenes health professionals with science, academic and government experts to review and exchange ideas on the latest developments in the study of fatty acids, lipids and their mediators.
During this year's meeting, Mead Johnson co-sponsored a satellite symposium on maternal, infant and children's nutrition which focused on current understanding of lipids in pediatric nutrition and how to develop future studies to generate an even greater understanding of these important nutrients. Several scientists also presented data on research supported by Mead Johnson.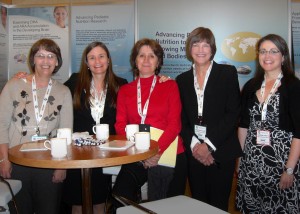 "Lipids are a key component in the diets of infants and children, affecting growth and health as well as neurocognitive development." remarked Deb Diersen-Schade (above left), Director of Global Scientific Affairs at Mead Johnson. "Participation in these meetings allows our scientists to learn about the most recent research findings relevant to dietary lipids and lipid metabolism, from basic research to clinical trial data."
For more information on this year's ISSFAL meeting, please visit: http://www.issfal2012.com/index.html