Mead Johnson Nutrition recently broke ground in Singapore on a US$325 million facility that will enable the company to study pediatric nutrition and expand its capacity to produce leading infant formulas in the heart of the growing Asian market.
The project underscores the company's commitment to growing in Asia, a market where the need for pediatric nutrition has grown considerably in recent years. The venture represents the largest single capital outlay in the company's history and will allow Mead Johnson to create approximately 180 new jobs over the next two years. The building project includes a state-of-the-art manufacturing plant, a research & development center and a new regional office.
Singapore's commitment to research, education, innovation and health make it the right fit for a new Mead Johnson Pediatric Nutrition Institute (MJPNI) technology center. The MJPNI-Singapore will be the latest link in a global chain of resources – including technology centers, R&D facilities and collaborations with more than a hundred leading academic and clinical institutions – engaged in breakthrough research on critical issues in pediatric nutrition science to benefit infants and children worldwide.
The new facilities are scheduled to be operational in 2014.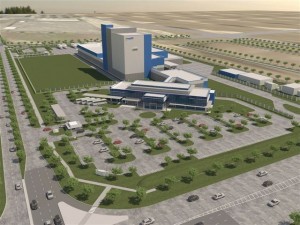 Artist's rendering of the new manufacturing and R&D facilities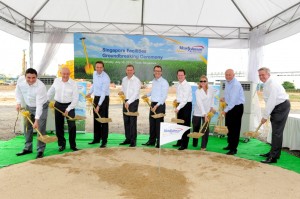 The Mead Johnson Executive Committee breaks ground at the construction site