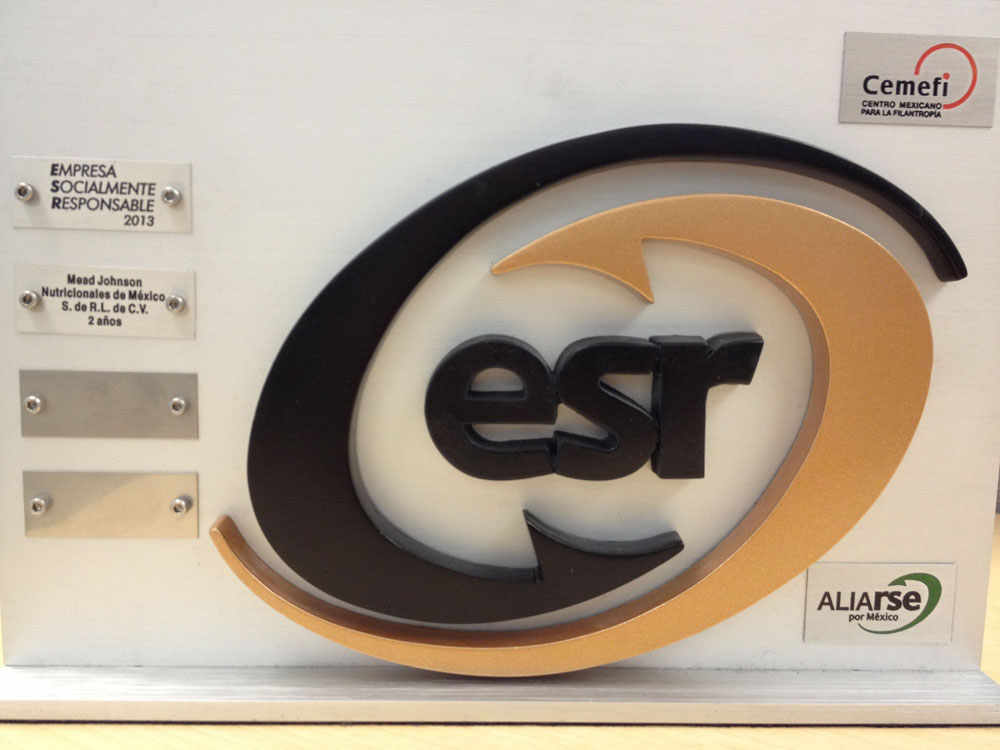 Mead Johnson Mexico was given the prestigious 2014 Socially Responsible Enterprise (ESR®) Distinction for the third consecutive year by the Mexican Center for Philanthropy (CEMEFI) and the Alliance for Corporate Social Responsibility. The award recognizes Mead Johnson Mexico's longstanding commitment to Serving the Marketplace, Protecting the Environment and Nurturing Communities, Mead Johnson's three Corporate Social Responsibility pillars. Each year, CEMEFI bestows the ESR award to companies that demonstrate a commitment to their employees and the local communities. In recognizing Mead Johnson this year, the organization listed a number of indicators that Mead Johnson Mexico undertook in 2013 that illustrated Mead Johnson Mexico's commitment to social responsibility, including:
• Partnering with the global Supply Chain and Compliance groups to strengthen our Standards of Business Conduct and Ethics for employees and suppliers;
• Supporting nutrition education by promoting acceptable levels of nutrition in young girls at Casa de la Mercedes youth home;
• Providing nutritious breakfasts to children living in some of Mexico City's most vulnerable communities of Comedores Santa Maria along with Fundación Ibero Meneses supporting 250 children.
• Sponsoring and opening the Enfagrow Playroom at the Universum Science Museum in Mexico; and
"Our company's century-old mission is to nourish the world's children for the best start in life," said Mead Johnson Mexico's Vice President & General Manager Robert de Bruin. "We accomplish this not only by providing nutritious products for infants and children, but by creating and participating in programs that make a difference in the lives of the children, families and communities we serve."