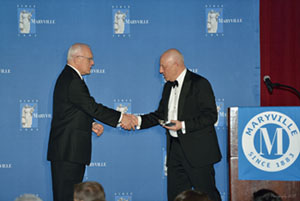 Mead Johnson U.S. recently received the Spirit of Maryville award in recognition of our ongoing commitment to supply Chicago's Maryville Crisis Nursery with enough Enfamil® Premium and Nutramigen® to meet the nutritional needs of all of the infants and children served by the crisis nursery as well as the co-located long-term medical care nursery.
As the only crisis nursery in Chicago, Maryville provides a safe and nurturing environment for young children – from newborn through six years of age – whose families are living in vulnerable situations. Parents can turn to Maryville for help taking care of their children, and can even drop off their children for up to 72 hours while they tend to emergencies, seek permanent housing, or look for employment. The crisis nursery provides shelter, clothing, supervision, medical care – and, thanks to Mead Johnson, all the infant formula these children need.
In a video shown at the gala, Graciela Monteagudo, senior vice president and general manager of North America and Global Marketing, said that Mead Johnson's relationship with Maryville allows us to provide science-based nutrition as a means for women from all walks of life to make the right nutritional choices for themselves and their children.

Charles Urbain, Mead Johnson's senior vice president and chief development officer, accepted the award on Mead Johnson's behalf at a dinner held this month in Chicago. He expressed gratitude for Maryville's dedication to rebuilding the lives and renewing the hope of children who may be affected by the potential damaging effects that can result from a family crisis.
"We at Mead Johnson are very humbled to receive this award. As one of the only companies in the world with a primary focus on pediatric nutrition, it is our mission and responsibility to provide support and nourishment to all children."
Our work with Maryville Crisis Nursery is an example of the many philanthropic initiatives undertaken by Mead Johnson under the global umbrella of A Child's Best Start. Through our relationship with Maryville Crisis Nursery, we're providing infants and children living in vulnerable circumstances with the nutritional support to help them get the best start in life.