On a recent summer night in southern Indiana, hundreds of adults and children enjoyed fireworks, food and fun.
But this wasn't your ordinary warm-weather picnic. These partygoers were all part of our extended family – the Mead Johnson family. They came together to celebrate something very special – the company's 100th anniversary in Evansville.
Mead Johnson's close relationship with Evansville dates back to World War I, when supplies of potato starch – a key ingredient in the company's first infant feeding product, Dextri-Maltose – were cut off from Germany. In 1915, Edward Mead Johnson decided to move the company from New Jersey – where he had founded it 10 years earlier – to Evansville, which offered an abundant supply of corn to replace potato starch.
A full century later, Mead Johnson is a leading employer in Evansville, a good corporate citizen and a key contributor to the region's economic base. We still maintain our largest presence in Evansville with a major manufacturing plant, a number of key business and medical/scientific functions, as well as the first research facility established as part of the Mead Johnson Pediatric Nutrition Institute.
Throughout the years, an eye toward the future has guided Mead Johnson. But the legacy of our founder remains a driving force, as we remain the only global company solely focused on pediatric nutrition. Our founder's grandson, Daniel Mead Johnson, told his team 50 years ago to "look to the needs and demands of tomorrow for today's standards of performance, and not to the tradition of yesterday."
We've taken that advice to heart, building on our strong foundation to create more than 70 innovative products – offered across more than 50 countries – that nourish the world's children. And as proud as we are of our first 100 years here, we look forward even more to the positive difference we will make in Evansville, the United States and around the world for the next 100 years.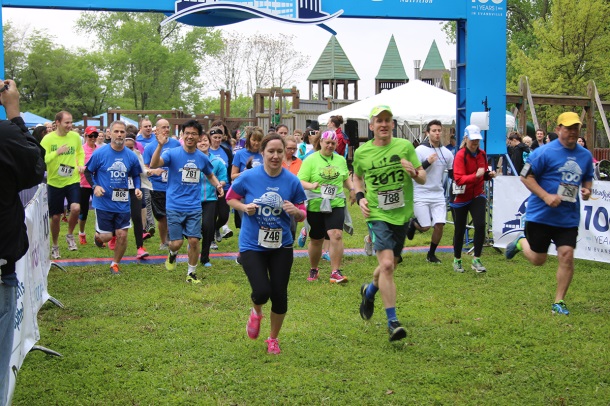 Runners sporting Evansville 100-anniversary shirts cross the finish line at the March of Dimes' March for Babies event.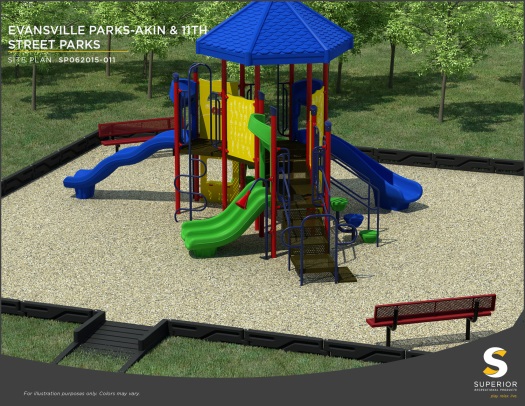 A rendering of a new playground made possible by a $100,000 donation from Mead Johnson to the Evansville Parks Foundation.