We are proud to announce the launch of OrphanNutrition.org , a new website dedicated to providing information to address the nutritional needs of infants and children living in fragile and vulnerable circumstances. The website is being funded by the Mead Johnson Nutrition Foundation and is a core element of A Child's Best Start (ACBS) – Mead Johnson's global signature charitable program.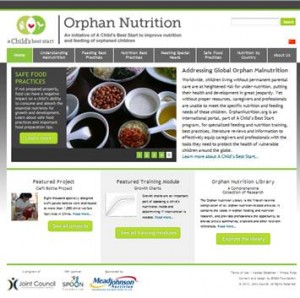 Through the ACBS research supported by the Foundation, we know that there is a scarcity of knowledge and resources available to help caregivers meet the unique and critical nutrition and feeding needs of children living in orphanages, group homes and institutions in many parts of the world.
OrphanNutrition.org will fill a real need in this area by acting as an international portal with access to a free library of nutrition resources, collection of training materials, and general information on common needs and nutrition issues among this population of children.
Designed to function as an evolving resource, the site is in the early stages and will be expanded gradually with country-specific content and information about individual initiatives as the program continues to grow.
Our ACBS global partner – Joint Council on International Children's Services – connected us to one of its member organizations – the SPOON Foundation – which is dedicated to improving nutrition policies and procedures for orphans around the world to give as many orphans as possible the chance for healthy development. SPOON, in partnership with the ACBS Global Nutrition Working Group of medical experts and academics in the field of child health and nutrition, developed the initial content for the site and will manage its expansion over time.
We look forward to the growth of the information base, features and international reach of OrphanNutrition.org and will continue sharing updates on the site's new capabilities in the months to come.