For seven years, Mead Johnson has partnered with the Chaipattana Foundation on the "Helping Hand" program, an initiative to improve the standards of pre-school childcare centers across Thailand. The program aims to foster physical, mental, social and intellectual development of children during this important period of growth in the pre-school years.
This year's "Helping Hand" project took place in June, as Mead Johnson Thailand employees worked to restore three child development centers in the Lopburi Province that were severely damaged by flooding in 2010. The two-day restoration initiative included a donation of infant and children's feeding products for proper nutrition, equipping the buildings with more hygenic resources, developing educational play areas, improving teaching materials, and building a vegetable garden.
Mead Johnson enlisted the help of Pattana Chatchapong, Ph.D., an expert in preschool education and a board member of the Preschool Education Association of Thailand, as a consultant on the design of the centers. Dr. Chatchapong also conducted training for teachers and parents about ways to encourage learning and enhance children's quality of life in a sustainable way.
Since 2005, the "Helping Hand" program has benefited more than 20 child development centers across the country through a combination of financial contributions, product donations and employee volunteer efforts.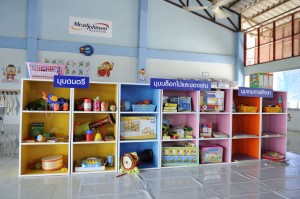 Educational play areas have been developed to stimulate children's learning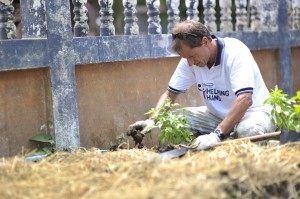 Blair Sailes, General Manager of Mead Johnson Thailand, helps plant the vegetable garden