Mead Johnson Nutrition has donated 14 important paintings to the Evansville Museum of Arts, History and Science. The paintings are by the eminent 19th century Dutch artists Cornelis Zwaan and Bernard Pothast. Featuring rural scenes of mothers caring for young children, prints of the paintings were originally used in calendars and other Mead Johnson publications.
With such titles as "On Mother's Lap," "Mother's Joy," and "Baby's Supper," the paintings are an artistic expression of parental love and caring, which goes well with our mission to nourish the world's children for the best start in life.
Although the company has treasured having the paintings, we wanted to share them with the Evansville community, which has been home to our largest U.S. facility for nearly a hundred years.
"The museum is thrilled to add these paintings to our collection," said John Streetman, executive director, Evansville Museum. "We have long admired this splendid collection and are truly delighted that it is now a legacy to be shared for generations to come."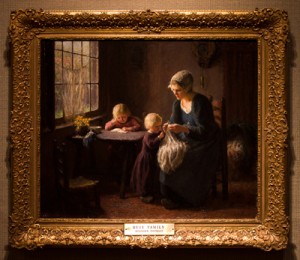 "Busy Family" by Bernard Pothast, is one of 14 paintings recently donated to the Evansville Museum of Arts, History and Science